Carpets in interior design Automatic translate
Can carpets be considered a relic of antiquity? Or can they look organically in a modern interior? If, nevertheless, their application is allowed, what should be the pile, size, color, shape? Specialists of the Atelit interior studio tell how to improve living quarters with the help of carpets and fashion trends.
Floor carpets - what to choose?
Carpets can be placed on the floor or walls. It is generally accepted that they bring coziness, comfort and warmth to the living space. But this is only if you choose the right model and not make a discord in the style of the interior.
Carpets for the living room and bedroom
For these rooms, delicate colors are suitable. Pastel colors are the best solution. Expressive drawings, floral patterns, contrasting solutions, 3D ornaments are acceptable. Soft carpets with a long pile look great in the living room, they can be in the format of the room or occupy a certain area. For the bedroom, the ideal option is soft bedside mats, which are nice to walk barefoot in the morning. You can lay a small rug by the mirror or dressing table.
Fashion news and trends
This season, designers offer stylish contrasting solutions. Saturated colors are very relevant - blue, red, orange. But Atelit experts advise you to remember that fashion is changeable, so you shouldn't refuse from neutral classics. See examples of design on the websites of studios, look for interesting solutions in the catalogs of carpet manufacturers and choose the option that you like best.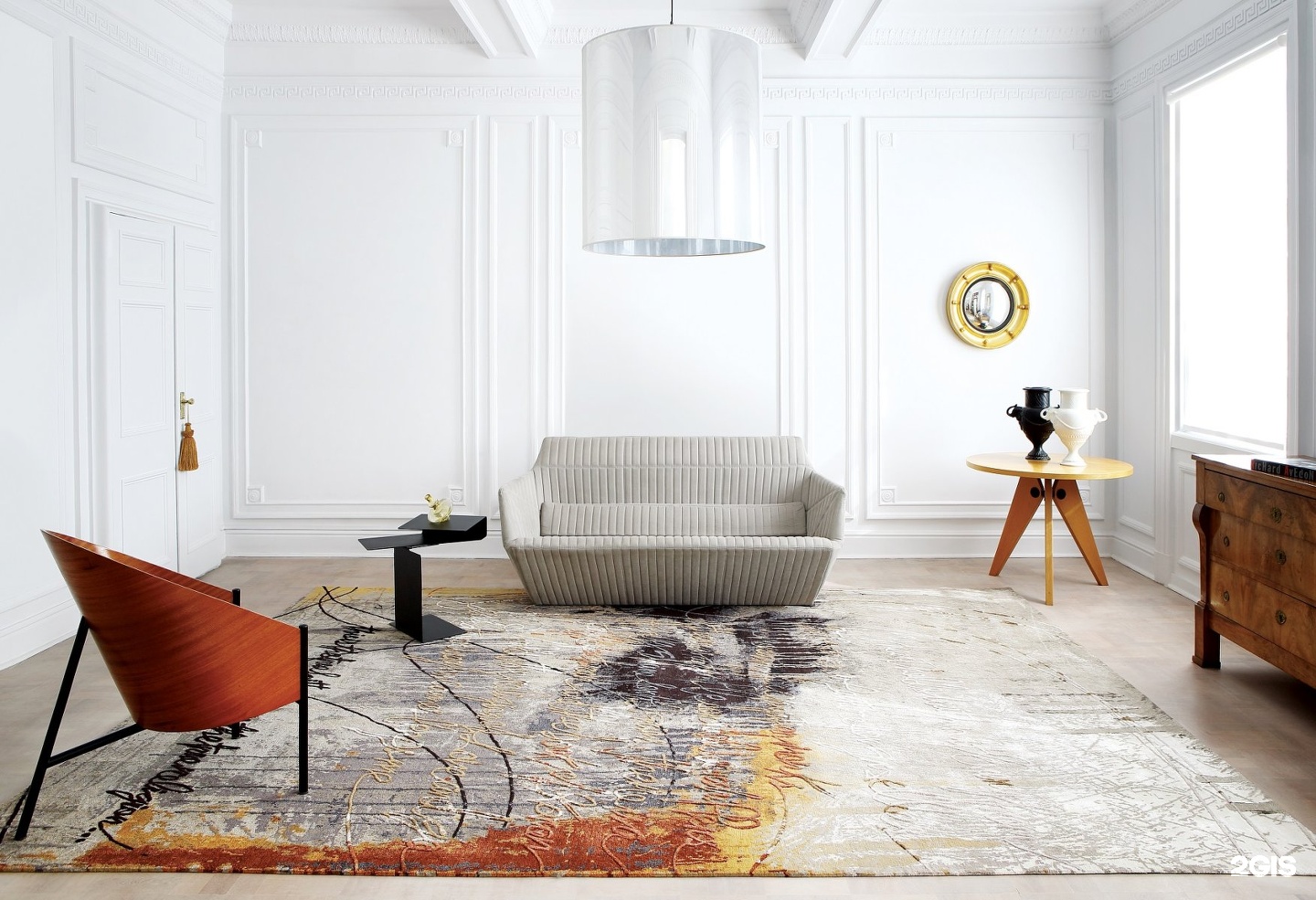 TOP 3 tips when choosing a floor carpet
Carpet format.
Make sure that the carpet does not bend or wrinkle; do not place heavy furniture on it so that dents do not appear. It is desirable that at least 10 cm is left before the skirting boards. The most popular carpets are of average size 3x2 m, they look great in living rooms.
The style of the interior.
In the classic interior, oval and rectangular formats organically look, in modern - original forms, fusion is characterized by non-standard carpets decorated with futuristic patterns, for minimalism - plain low-key decisions, the Art Nouveau interior is best complemented with monochrome, a vintage carpet will fit well with the style of a loft, country, art deco, scandinavia.
Environmental friendliness and materials.
Evaluate your budget and consider giving preference to natural or artificial carpet. Natural cotton carpets are in good demand; they are practical and hypoallergenic. The silk version will cost more, but it will look great in the interior.
Carpets in the form of paintings - a modernized version of antiquity
A hit of recent years - wall-mounted picture carpets. This is an echo of antiquity, in which modern designers breathed new life. Products are made in oriental, scandinavian, indian, vintage, modern and classic styles. It will not be difficult to choose an option in Minsk for a specific interior. Such accessories in the apartment give a feeling of comfort and luxury.
Elements on the carpet picture, characteristic for different styles:
eastern - ornaments, lines, jugs, vases, hookah, nature;
Scandinavian - abstract abstract plot, white color prevails;
modern - tapestry with an art object or floral print;
loft - monotony or patterns, at the same time can increase the heat and sound insulation in the rooms;
classic - landscapes, wildlife, calm tones prevail.
Carpet Interior Rules
In the room, no matter what area it is, it is not recommended to use more than one carpet.
Do not fill the walls and floors in each room with carpets and tapestries. In the living room you can place a tapestry, in the bedroom - soft rugs of a small format by the bed and limit this. Let there be photographs and posters on the walls, good measure in everything.
Always remember the unity of style. The carpet should not get out of the general design of the room, neither in terms of style, nor from the position of the color scheme.
See if the carpet you want to buy is combined with other textiles in the room.
If you want to create a cozy corner with the help of a carpet, place an armchair and a bookshelf next to it. This option is not bad for a living room. In the bedroom, the carpet looks good next to the dressing table. If you are decorating a children's room, pay attention to the tapestries with images of animals and fairy-tale characters.
Want to complement your home or apartment interior with floor or wall carpets? Not sure if you can handle this task yourself? Take the help of Atelit specialists. Studio designers will help you design a stylish and comfortable interior. Here you can order a turnkey repair.
---