Office furniture on a metal frame - advantages, what to look for when choosing Automatic translate
Higher demands are always placed on work and office furniture. Which is not surprising, because in the course of their daily operation, office interior items are subjected to much higher loads than home furnishings. Therefore, such furniture must be strong, durable, reliable, maintainable. These requirements are best met by products on a metal frame, the service life of which is 2-3 times higher than that of traditional office furniture made of MDF and laminated chipboard, the advantages of which can be assessed by placing an order at the office furniture factory OMEBEL.
Tables and other pieces of furniture on a metal frame are an expensive pleasure, but in high demand, showing a steady annual growth. The reason is simple - a strong steel frame gives such work furniture a number of serious advantages. The list of benefits includes the following:
Increased strength is the most important indicator for offices. Employees of companies cannot boast of a careful attitude to the objects of their working environment - constantly slamming doors, sharply pulling out drawers, dropping chairs. With such treatment, traditional office furniture made of chipboard quickly becomes unusable, and after a few years it ends up in a landfill, increasing the financial costs of the organization. It is quite another thing - durable furniture on a metal frame - a reliable and durable option that perfectly resists even the strongest shocks and deformations.
Good maintainability. First of all, those parts of the design of desktops that are made of wood fail. If we are talking about office furniture on a metal frame, it is enough to remove and replace the countertop or hanging elements - the whole process will take no more than a few minutes. In the case of classic furniture made entirely of wood-based panels, a long and tedious complete disassembly will be required.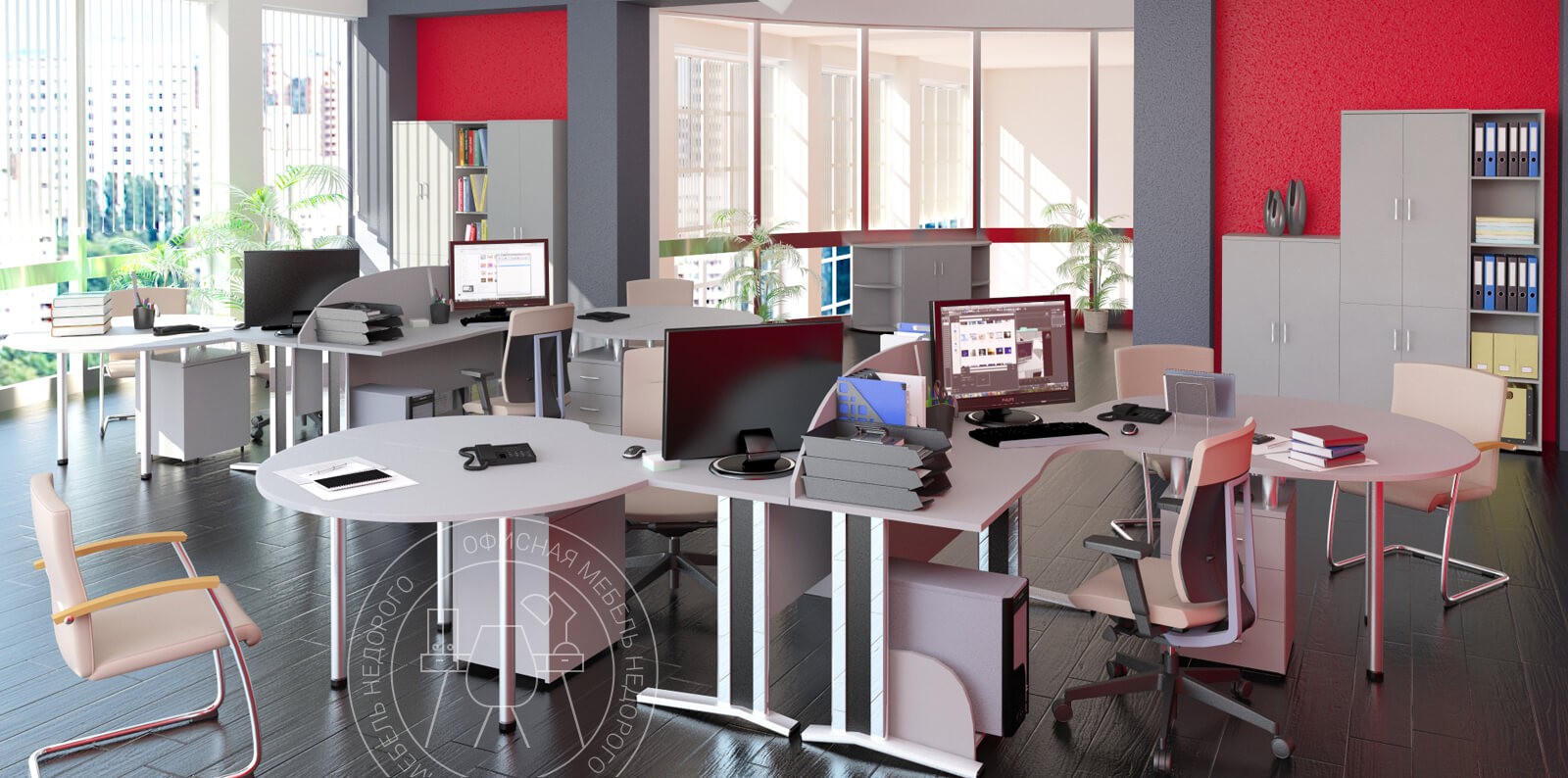 Resistance to adverse factors. Unlike wood, the metal frame of office furniture does not swell and does not collapse with frequent wet cleaning of the room, it will not deteriorate if hot coffee or tea is spilled on it. It does not dry out over time, does not stick out from heating, does not fade under the sun's rays, and even after many years of operation, it continues to look as attractive as at the time of purchase.
What to pay attention to in order to make the right choice of office furniture on a metal frame and not make a mistake with the purchase?
The most important criterion is the material of construction. It is best if it is assembled or welded from durable steel pipes. As an alternative, you can consider an aluminum frame - on the one hand, such furniture will be easier to move from place to place, but on the other hand, this metal is softer and less resistant to destructive effects.
The second important criterion when choosing office furniture on a metal frame is its protective decorative coating. Steel has one serious drawback - it rusts over time, and not only in contact with water, but simply oxidizing in reaction with atmospheric oxygen. So that after a few years the furniture does not lose its beautiful appearance, and rusty spots do not appear due to the paint layer, it is recommended to choose models whose frame has an anti-corrosion zinc coating.
Finally, it is important to check the quality and reliability of the assembly. If the elements of the metal frame are fastened together not by bolts, but by welding, it is necessary to make sure that there are no cracks on the surface of the seams. You should also check that there are no burrs on the metal - they can cause cuts and serious wounds during the operation of the product.
---