Duel between Peresvet and Chelubey on the Kulikovo field Mikhail Avilov (1882-1954)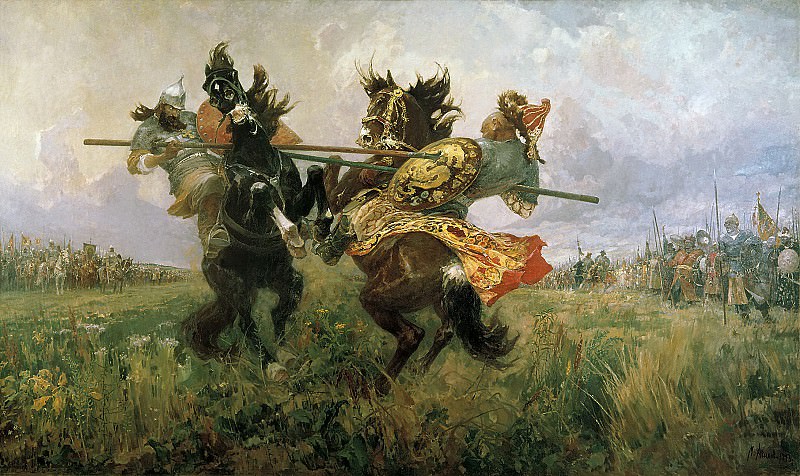 Mikhail Avilov – Duel between Peresvet and Chelubey on the Kulikovo field
1943
---
Avilov's famous painting. It was created in 1943. The artist depicted the legendary battle that took place between the bogatyr Peresvet and the warrior of the Tatar army Chelubey. This duel marked the beginning of the battle at the Kulikovo field. However sadly, both warriors were killed. But it is considered that Peresvet won anyway. His horse took the master to the army. Chelubey was simply knocked out of the saddle.
The artist creates a maximally simple composition. In the center of the canvas are two horses, reared on their rear ends. The fighting men are sitting on them. On the left we see Persweth. And on the right Chelyubey. The heroes are depicted as close up as possible. Everything else becomes just a background, as the main figures overwhelm the other details. The horses are really ugly. Their manes curl in the wind, their teeth are gritted, and their muzzles are frighteningly fierce.
The horse blanket of Chelubey stands out. Avilov depicts it variegated. Warrior's shield is also motley. We see that Peresvet pierced it with his spear. The chainmail and helmet of the bogatyr shine brightly in the sun. The artist was able to convey the dynamics of this battle. His canvas is as tangible as possible. It seems that just a moment more we'd hear the sound of wind, horses neighing and spears cracking.
The painter is a true master, skillfully using paints. His canvas amazes by the exuberance and richness of colors. It is through hues that Avilov was able to convey the mood of Russian and enemy troops.
On the left, a gray tone dominates. It suggests that the soldiers are frozen in anxious anticipation, but they are poised and calm. On the right, we see mottled colors. The Tatar-Mongols are unsure. We sense that they are anxious and unsure of how this grand duel will end.
Avilov's painting was created during the Great Patriotic War. It is no coincidence that he takes this particular historical subject. It was important to maintain the spirit of Russian soldiers and to draw striking parallels with the Battle of Kulikovo.
---
Edit attribution
Download full size:
2189×1300 px (

0,9 Mb

)
Painter:
Mikhail Avilov
Duel between Peresvet and Chelubey on the Kulikovo field — Mikhail Avilov
Пожалуйста, подождите
На эту операцию может потребоваться несколько секунд.
Информация появится в новом окне,
если открытие новых окон не запрещено в настройках вашего браузера.