What are dyes for concrete Automatic translate
Just a few decades ago, concrete was gray and dull, but thanks to the fact that modern technologies never stand still, we managed to get bright colors for this building material. Today, the most common concrete products can be called paving slabs, which are not just different colors, but absolutely unthinkable shades. You can simply mix several pigments and get the desired result. But ordinary paints here will help little. We need specialized options designed specifically for painting concrete.
Iron oxide pigments: the main varieties and useful properties
Iron oxide pigment - This is a kind of powder, thanks to which it is possible to give concrete any color, both at the production stage and at the finish of finished products. The composition of the powder includes a wide variety of components, but the most important of them can be distinguished:
titanium dioxide;
iron oxides;
powder chrome.

But there are also many such secret components that manufacturers are silent about, because this is a production secret that affects the quality and cost of production. The whole charm of such a pigment is that even after drying, it does not lose its color. Concrete can be constantly exposed to direct sunlight or even treated with oil and oily liquids, but the paint will not lose its color. Painted concrete can stand for decades with its originally planned color, which makes it a very profitable investment, without the need for restoration work.
Concrete mixing color
One of the options for painting concrete is painting when kneading. You can simply dilute the pigment with water, which is used in the preparation of the solution and leave it to be kneaded in a special installation or a commonplace concrete mixer. The advantage of such a painting is that all concrete will be painted as evenly and quickly as possible. The color saturation or hue can be changed in the process by adding a particular pigment in a certain amount.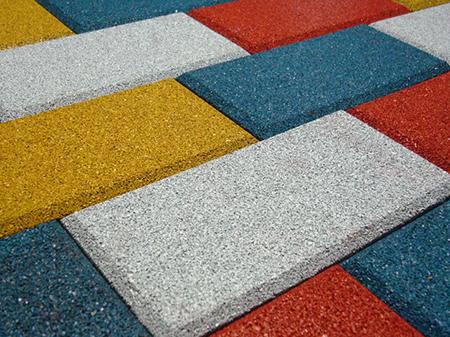 This technology is most often used in the manufacture of paving slabs in order to put production on stream and to save workers from the need to paint each individual unit of goods.
Painting of the finished concrete structure
If you paint finished concrete structures, then the paint will also perform its direct functions and will not be able to fade in the sun over the years. In order to prepare the paint of the desired color, you should take the base. It can be a varnish, a coloring substance or any other water-repellent without color, intended for processing concrete. The deeper it can penetrate the structure of the solution, the more reliable and durable the result. The pigment is diluted in the main component until completely dissolved. But as in the first option, you can adjust the color saturation and hue of the finished product, which is very convenient.
---