UI design: what it is, features and current trends Automatic translate
The mobile application interface is a set of functional tools that allow the user to solve their problem. Most people rate an application on the visual appeal of the interface, so the design of the program needs to be given increased attention. This is UI design , or user interface design. In the article, we will consider what it is, how user interface design is developed, and what are the current trends in UI design.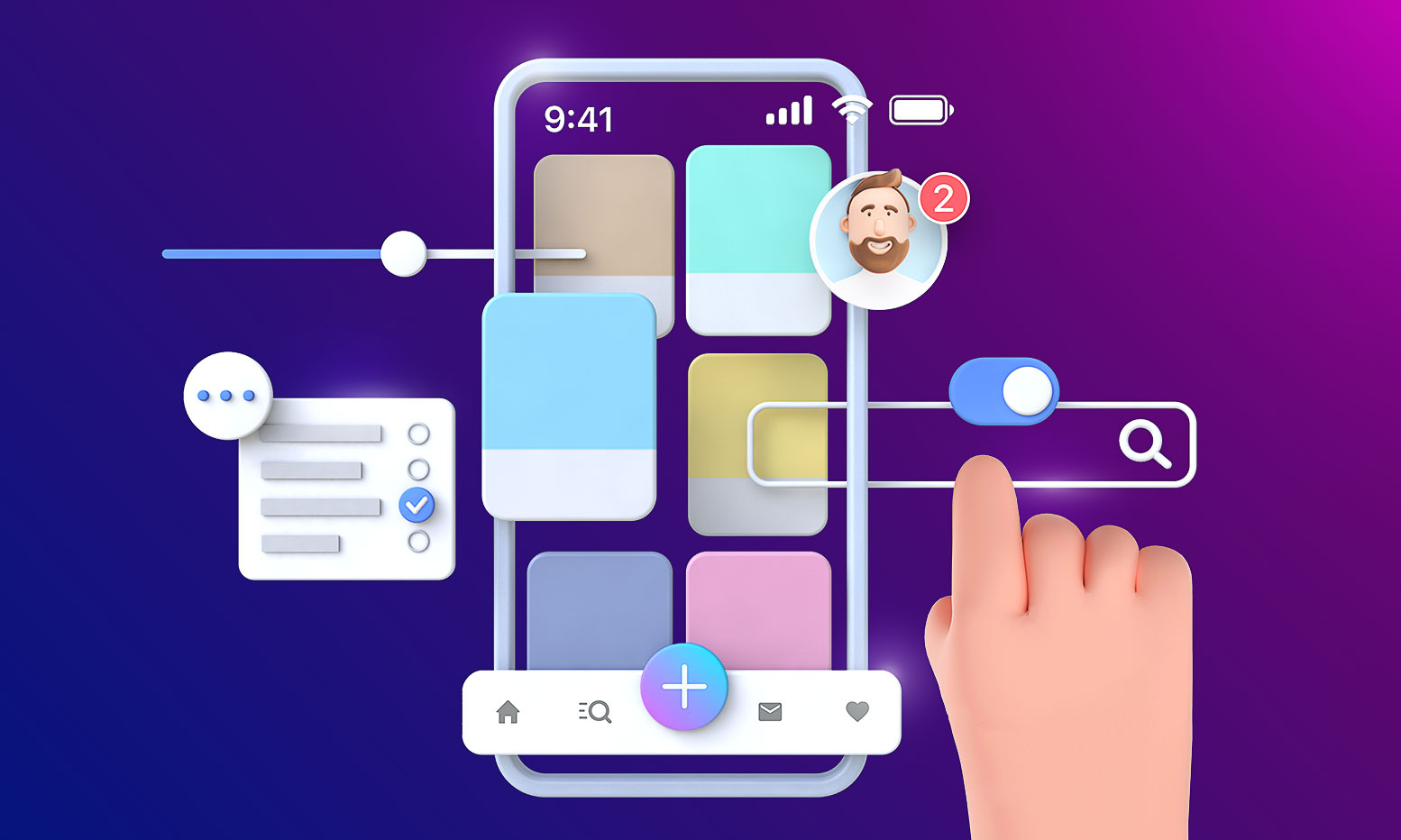 What is UI Design
UI is the design of the user interface. This includes everything that the user sees when they open your application. To understand what UI is, it is necessary to consider how it differs from UX. The latter represents the user experience, that is, the usability of the mobile application.
UI is more about aesthetics, about how the application interface is perceived by users. As part of this work, the designer deals with fonts, design, color and shape of buttons, field sizes, etc.
UI cannot be considered in isolation from UX, as it is the visual embodiment of the user experience. No wonder the corresponding profession is called UI / UX designer.
Top mobile app UI trends for 2022
Almost all users evaluate a mobile application by the degree of attractiveness of the interface. That is why, in order to effectively retain users, it is necessary to follow certain trends that are relevant in 2022:
more animation on the screen;
more gestures instead of buttons;
design in the style of the 90s;
more volumetric elements;
the presence of a night mode;
more attention to typography;
introduction of elements of virtual reality;
more transparent elements;
minimalism;
abstract art.
In fact, these trends began to appear a long time ago, but this year they continue to gain momentum. Let's take a closer look at these trends.
More animation
Animation is only effective if used in moderation. If you go too far with animated elements, then the application will load for a very long time, which will badly affect the user experience.
Purrweb recommends that you animate only those elements of your application that solve specific business problems. For example, you can make an animated target action button - it will attract the attention of users and can significantly increase conversion. And you can also make a smooth opening of product pages, due to which users will be pleased to deal with your application.
More gestures instead of buttons
According to numerous studies, more and more users are starting to abandon conventional buttons, giving preference to swiping (i.e. gestures) instead. So, for example, using gestures, you can scroll through product catalogs, switch between pages, etc. If you add animation to the gestures, the application will sparkle with new colors.
Decoration in the style of the 90s
Recently, the style that was popular in the 90s is becoming more and more popular. She is also getting into the field of mobile app design. For example, today retro fonts in applications and on websites have become especially popular. Of course, the style of the 90s is not suitable for all products. But if retrostyle can be applied to your application, then we recommend that you definitely experiment. The older generation will be nostalgic, while the younger generation will be interested in vintage elements. So your application will definitely not be left without attention.
More volumetric elements
At the moment, flat elements are doing their job perfectly. However, 2D graphics quickly bore users. To keep people's attention, we recommend introducing more 3D elements. To give the latter volume, you can use shadows and layers. All this can be done with modern tools.
A mobile application with three-dimensional elements has a more lively interface, which means it looks interesting in the eyes of users.
Availability of night mode
It is also known as dark mode. Its essence lies in the fact that the entire screen is converted to a dark color, and the text and other elements, on the contrary, become light. The ability to activate the dark mode today is available in almost all popular applications. This mode allows you to reduce eye strain and comfortably use the mobile application.
Typography
Recently, designers have been more bold in their choice of fonts. For example, they are increasingly using unusual fonts to decorate text in the application. Thanks to this, the text is not boring and does not merge with the surrounding elements.
A well-chosen font allows you to solve the following tasks:
set the general tone for the application and provide the desired mood;
increase brand awareness. To do this, we recommend using exclusive fonts that you use as part of your corporate style;
improve text content. The use of original fonts allows you to highlight the text on the mobile application page;
improve readability.
It is worth noting that the use of a large number of unusual fonts is not suitable for every product. For example, if text is not the central element in your application, then you should not experiment with typography. On the contrary, if you are creating an online magazine where text is a key element, then you should pay more attention to the choice of fonts.
Using elements of virtual reality
Virtual reality allows users to literally immerse themselves in a virtual world. This trend became especially popular during the pandemic, when people were forced to stay at home and were looking for new entertainment and sensations. Virtual reality elements can be created using special design techniques and gamification - all this gives the user the opportunity to feel inside the application.
Some companies have gone even further - they are introducing augmented reality tools into the application. For example, before buying furniture, you can literally see how it will look in your interior.
More transparent elements
Recently, more and more designers began to use transparent elements in the application interface. They allow you to improve its "depth", making the design beautiful and very attractive. Also, translucent elements allow you to soften the line between absolutely light and dark parts. To do this, the semi-transparent background of the element should have a slight blur effect, making it look like frosted glass.
Here are the key characteristics of this trend:
the background of certain elements becomes translucent and slightly blurred;
all translucent objects have thin light borders. They allow you to visually highlight the elements on the screen, make them voluminous;
use of a large number of layers;
the use of bright colors.
Minimalism
This trend has always been relevant, but in 2022 it becomes even more pronounced. So, designers should get rid of all unnecessary elements on the page, leaving only the most necessary and necessary. Minimalism manifests itself in the use of soothing images, natural shades and simple patterns that do not have unnecessary elements. These traits are commonly seen in meditation apps.
Abstract art
This way of designing the user interface is only suitable for some applications. With the help of original geometric shapes and interesting patterns, you can effectively attract the user's attention and keep it for a long time.
You can order UI design services for a mobile application from Purrweb studio. Specialists will definitely take into account your wishes, develop a detailed technical task and design project. Also, designers will analyze the target audience in order to understand what "chips" in the design are really needed, and what may turn out to be superfluous. As a result, you will get a high-quality mobile application with an original design that will match the corporate style. accepted in your company and meet the needs of your target audience. This application will be convenient and pleasant to use.
---